Future beauty professionals from Paul Mitchell The School Chicago paid a special visit to our cancer-fighting partners at Bright Pink on April 21. Their mission: to help Team Bright Pink celebrate their "Office Wellness Day" by pampering them with hair and makeup and helping them get ready for a fun night out.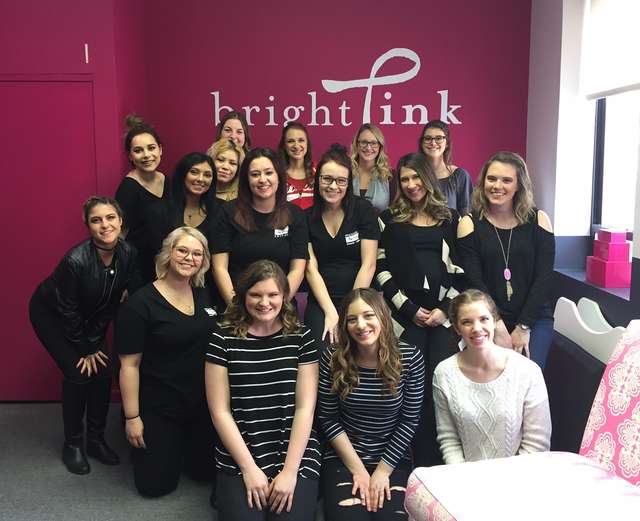 The Bright Pink team shows off their "after" styles, joined by their hair and makeup artists (dressed in black). "It was such an incredible experience to meet these women, learn about their experience at Paul Mitchell Schools, and share a bit more about our mission," says Bright Pink Senior Strategic Engagement Manager Lindsey DeThorne. "They were absolutely fantastic—so passionate about Bright Pink and excited to host a Brighten Up Educational Workshop for all of their students in the coming months. They said they loved the United in Pink campaign and can't wait to be a part of it again this October! We're always thrilled and grateful to partner with Paul Mitchell Schools, and Friday was an extra special reminder of what incredible partners they are!"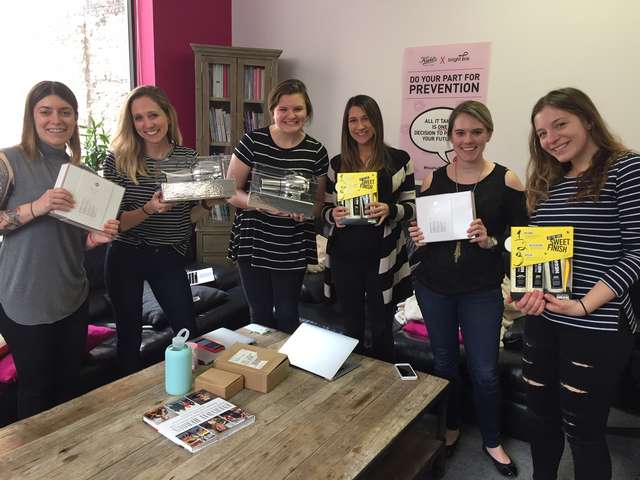 (L–R) Erin Williams (Director of Marketing), Carli Feinstein (VP of Development), Amanda Korcal (Programs Coordinator), Kim Henke (Director of Product Development), Brynn Draguesku (Development Manager), and Brooke Eanet (Programs Manager) show off gifts from John Paul Mitchell Systems to help celebrate their wellness day. "We absolutely loved them!" says Lindsay DeThorne.
Since 2014, John Paul Mitchell Systems and Paul Mitchell Schools have teamed up to raise money and awareness for Bright Pink. Their annual United in Pink fundraising campaign has raised and donated $293,000 to Bright Pink, and most of the schools have hosted Brighten Up Educational Workshops to empower their students, team members, and communities with vital information about early detection and prevention of breast and ovarian cancer.
Paul Mitchell Schools' Dean and Cofounder Winn Claybaugh says, "Nearly everyone on this planet has been touched by cancer in some way. People often think that breast and ovarian cancers only target older women, but Bright Pink knows firsthand that it often catches younger women by surprise. We are honored to partner with an organization that teaches women to safeguard their health by learning to live proactively at an early age."
Although the 2017 United in Pink campaign kicks off in September, the fundraising page is up and running. To donate, please visit www.crowdrise.com/unitedinpink.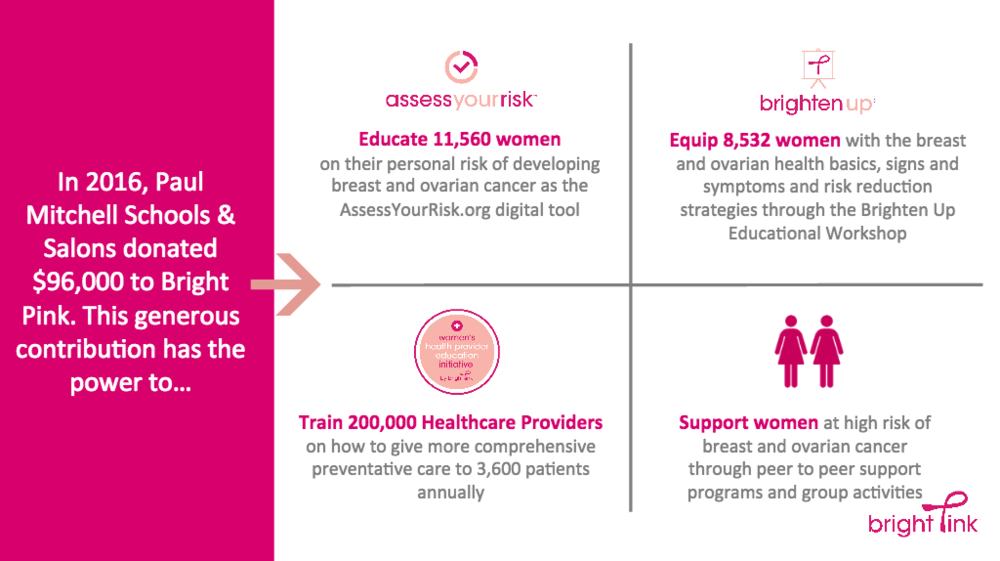 About Bright Pink
Bright Pink is on a mission to save women's lives from breast and ovarian cancer by empowering them to live proactively at a young age. Bright Pink is the only national nonprofit organization focused on prevention and early detection of breast and ovarian cancer in young women. Their aim is to reach the 52 million young women in the United States between the ages of 18 and 45 with their innovative, life-saving breast and ovarian health programs, thereby empowering this and future generations of women to live healthier, happier, and longer lives. Bright Pink sees a world in which fewer people die from breast and ovarian cancer. They aim to educate and inspire women to move from awareness to action, practicing risk reduction and early detection as a part of a proactive life.
Learn more at www.brightpink.org.