Lauren Deaton, a Future Professional from Paul Mitchell The School Charleston, might have discovered the secret to success: "As I have come to see it, a successful life is very similar to the techniques used by those of us who find a beautiful raw ability to cut hair: Find your guide and cut until you have followed your guide so well that your result becomes absolute, tangible, and a mirror image of your intent."
Lauren came from a small town in southern Illinois where hairstylists ran the one shop on the main street, serving up the latest town gossip, trimmed-up ends, and perms. Guests would wait their turn for the chair, flipping through an outdated look book filtered down from high-end salons in cities they've never thought twice about. Tired of what she called "a closed-off section where originality was feared, misunderstood, and resisted," Lauren identified herself through softball, traveling around the country and being scouted by universities, judged in seconds for the work she constantly put into her skills. Until she ended up at Paul Mitchell The School Charleston, Lauren found no real outlet that expressed herself in a way that gave her purpose. She was headed down a path that led to college softball – a path she was never sure about. When she saw how lost her future looked, she darted off the original path. Charleston happened to be the first checkpoint on her new path.
After years of cutting her teammates' hair on softball trips or in someone's kitchen, cosmetology school suddenly made sense.
Everything Lauren had ever known in sports transitioned over as if it had been preparation for a career in the beauty industry. "I am no stranger to pressure or performing for crowds," she says. "I understand the importance of sharpening my own skills for my own goals, and for goals that may exist within a team. In many ways I am thankful for the well-rounded character and social ability that sports helped me obtain. Although cutting would never be a sport highlighted on ESPN's newsreel, I still find a bridge between my athleticism and the raw talent that streams through my shears."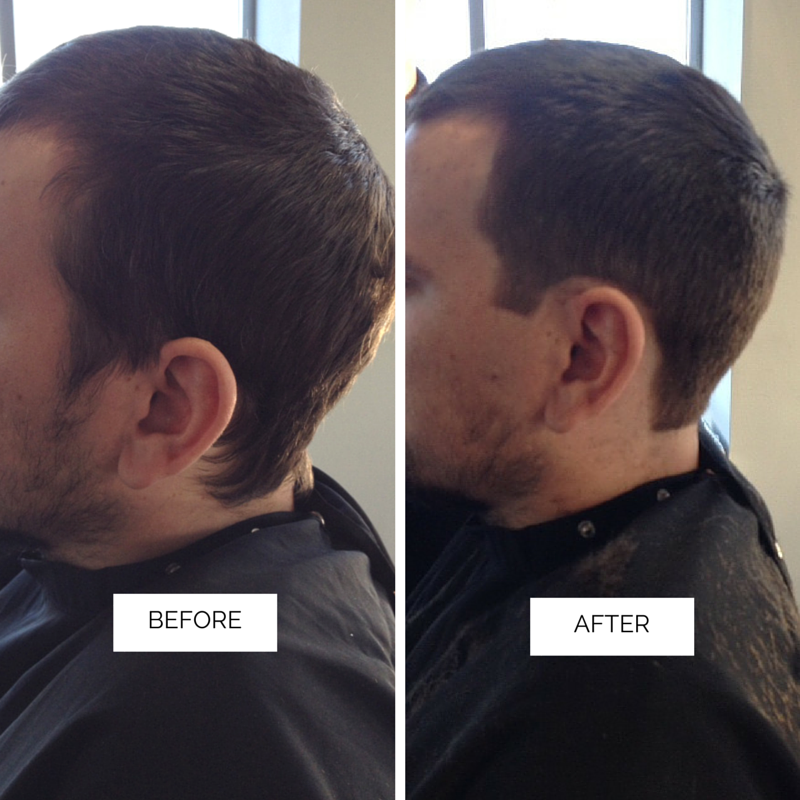 "I have already been given so many opportunities to fuel this passion I stumbled into," Lauren says. "Eric, co-school director, is one of many who went out of his way to be sure my potential can reach its ultimate highs. One day he came to me needing a haircut and let me know I only had 20 minutes or less because he had to get to a meeting." Lauren finished in 15 minutes and they spent the remaining time talking about how Eric had never had his hair done so quickly before.
"Is there a record for it? Who cares! I'll set it!" Lauren said.
"You can have assistants and before and after pictures," Eric said. "I'll call some salons around the area to come watch you."
And Lauren heard … I won't have to sweep up my own hair. Yay!
The conversation caught fire of its own, and within five minutes Lauren talked herself into cutting no less than 16 haircuts on January 31, with a personal goal to reach 24.
Over the next four weeks she promoted her small cut-a-thon, booking 22 men to make sure she wouldn't fall short. On January 31, Lauren faced a number of challenges from guests who wanted fades, tapers, bald fades, pompadours, 90 degree, Mohawks, shear and clipper, all clipper cut, all shear cut. They presented in different colors, textures, and densities, including some types she'd never had her hands in before. Four of her scheduled guests didn't show up, so she sent two of her assistants to the kids' play zone next door to convince parents that it would be a good idea to get their child a haircut … right now!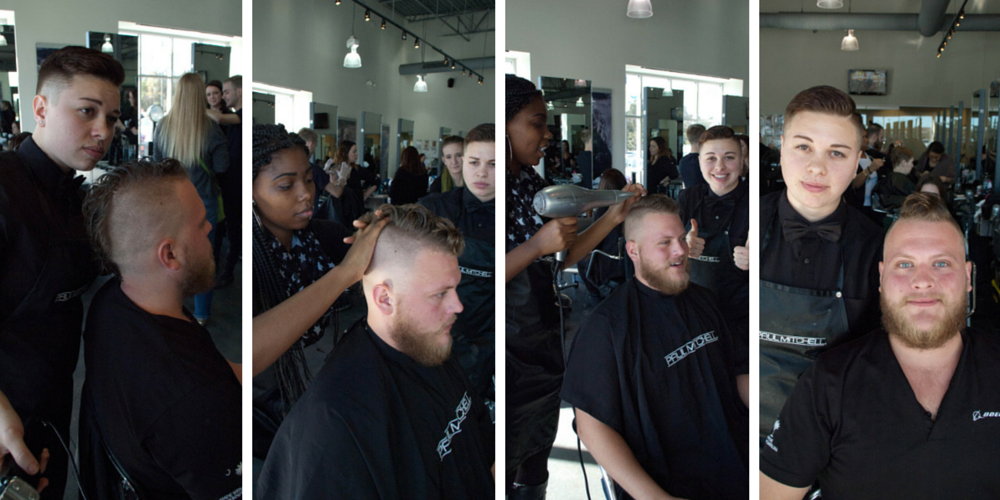 Working from 9 AM to 4:30 PM, Lauren completed 20 hairstyles. Her four assistants draped, shampooed, cleaned tools, and swept hair, while her classmates showed their support with words or a little pat on the back. Learning Leaders came to her rescue, taking two of her clippers for "emergency surgery" when a blade got offset. "Bloodshot eyes and hair splinters were our marks of success," Lauren says.
"It's a small victory for me on a very large scale of dreams I have set," Lauren adds. "I hope to do great things with my future, and to pay back all the wonderful people who have contributed to my life so far. Eventually we can end up living the life we were intended to; all we may need is a little bit of guidance."