Have you noticed the pretty pastel hair colors popping up around town and all over social media? It's hard not to! The pastel hair craze has been a thing for a while now, but with spring approaching, we suspect it will get even hotter. Actually, no – it'll get cooler, lighter, and more beautiful, just like pastel-hued Easter eggs and springtime flowers!
Pastel hair brings a magical, fun, and fairy-like quality to hair and to the spirits of those who wear the style. It also gives men and women another funky and fresh way to play with hair, using it as another unique way to express yourelf.
If you want to get ready for spring with some playful spring hair colors like the pastel pinks, blues, purples, greens, and yellows we've been seeing, just keep the following tips and suggestions in mind.
Pre-Lighten Your Hair
To get your hair a soft pastel shade, no matter if you want pink or blue or another pretty pastel color, you first need to pre-lighten your hair. There is no way to get the trendy pastel hair colors you see without this step, so make sure your hair is blonde or nearly white beforehand, and unless you're a trained professional, don't try to pre-lighten your hair at home.
A professional hairstylist knows exactly which products and process to use. Bleach will definitely be involved, so you'll want to do it right to protect your hair, scalp, and yourself. If you're a brunette, keep in mind that you may not be able to get super-light pastel shades.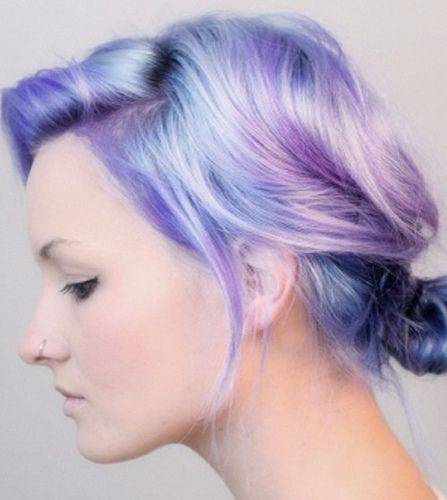 Go With a Variation in Color
It's a good idea to go with a variation in your pastel color, unless you want to end up looking like you're wearing a wig. A second shade of your chosen color will add a bit of depth and dimension, while a second color altogether will also add interest. Dual-colored and even tri-colored pastel hair looks amazing in a ponytail or worn in a braid.
Go Intense Because Your Color Will Fade
Remember, pastel hair color will eventually fade and lose intensity, so you'll want to overshoot and go a full shade more vibrant than you can actually picture yourself being happy with. Your pastel color will quickly settle into place, and you'll ultimately be left with the perfect shade you want. The lighter your hair is to begin with, the better it will take the pastel hair color.
A few other things to keep in mind if you want to get in on the pastel hair color craze: color-safe shampoos are a must, your hair should be in good condition for your pastel hair color to look its best, and some colors complement skin tones better than others!
Sources
http://thebeautydepartment.com/2015/07/pastel-hair-guide
http://www.teenvogue.com/story/pastel-hair-dye-tips
Photo Credits
Top photo courtesy of Vanni Bassetti/Getty Images
Two-tone photo courtesey of http://classic-hairstyles.com