From the kohl eyeliners of Egypt, to Chinese lipsticks made from crushed flower, even the ancient humans desired fabulously defined features and pixel-perfect complexions. Today, cosmetologists have achieved just that and much more. We welcome you to Makeup Brushes 101, Paul Mitchell School's low-down on the must-haves for your makeup bag.
1. Foundation Brush

shutterstock
For a flawless complexion free from the dirt and germs from your fingers, use this tool to brush your foundation or BB Cream all over the face and neck.
* Brush Anatomy: Foundation brush bristles are densely packed, firm, and tapered, providing you with a smooth and poreless finish.
* Beauty Breakdown: Obtain a streak-free complexion by applying your foundation in a circular motion.
2. Concealer Brush

shutterstock
Got a blemish or two? Nobody has to know! Evenly mask your imperfections by gradually adding sheer layers to the blemish or dark circle using a "tapping" motion.
* Brush Anatomy: The soft bristles of the concealer brush work with your concealer to give you the blended, concentrated coverage your complexion needs.
* Beauty Breakdown: Dark circles before foundation, foundation before blemishes. Be sure to conceal your dark circles before you apply foundation, and apply foundation before you conceal your blemishes.
3. Powder Brush
shutterstock
This staple brush is used to dust loose or pressed powder onto the face and neck. Banish shine and seal up your freshly foundationed/concealed face by using this fluffy brush.
* Brush Anatomy: This brush's bristles are full, dense, and soft to sprinkle the right amount of powder onto your skin, giving you pixel-perfect coverage.
* Beauty Breakdown: After collecting the powder onto your brush, gently tap to break up the clumps of powder. This allows the brush to distribute the powder evenly, making your skin look both smooth, and natural.
4. Angled Blush Brush


shutterstock
Be everyone's crush with a blush brush! Shaped to the contours of your cheeks, use this tool for exemplary blush and bronzer application.
* Brush Anatomy: The soft, dense bristles of the brush blush sculpt your face using an angled edge. Because of it's light, fluffy, and full texture, the bristles are able to distribute blushes and bronzers flawlessly to the contours of your cheeks.
* Beauty Breakdown: Don't know which blush looks best? Simply match the blush to the color found on the top of your ear!
5. Fan Brush
shutterstock
Let us give you 3 reasons why we're a "fan" of the fan brush:
1. It's a blender. Simply whisk away harsh lines, or lighten even the darkest of shades using the fan-like bristles of this brush!
2. Use to highlight your face. The light bristles will softly illuminate your features when used with a highlighter.
3. It's cleans up the mess. Loose eyeshadows and powders often leave unwanted residue on your otherwise-flawless face! A flick and a swish of a fan brush will simply "erase" these mistakes away!
* Brush Anatomy: The fanned shape of this brush along with its feather-light bristles, enables it to create soft color across the cheeks.
* Beauty Breakdown: Swap out the powder brush for the fan brush if you're looking for a lighter, more natural coverage.
6. Brow Brush & Lash Comb
shutterstock
Tame even the thickest of brows using your brow brush and comb! This tool can also be used to de-clump mascara, creating a more flawless eye.
* Brush Anatomy: The firm bristles of the brow brush both neatly detangle and shape eyebrow hair, and can evenly distribute eyebrow colors and gels.
7. Angled Brow Brush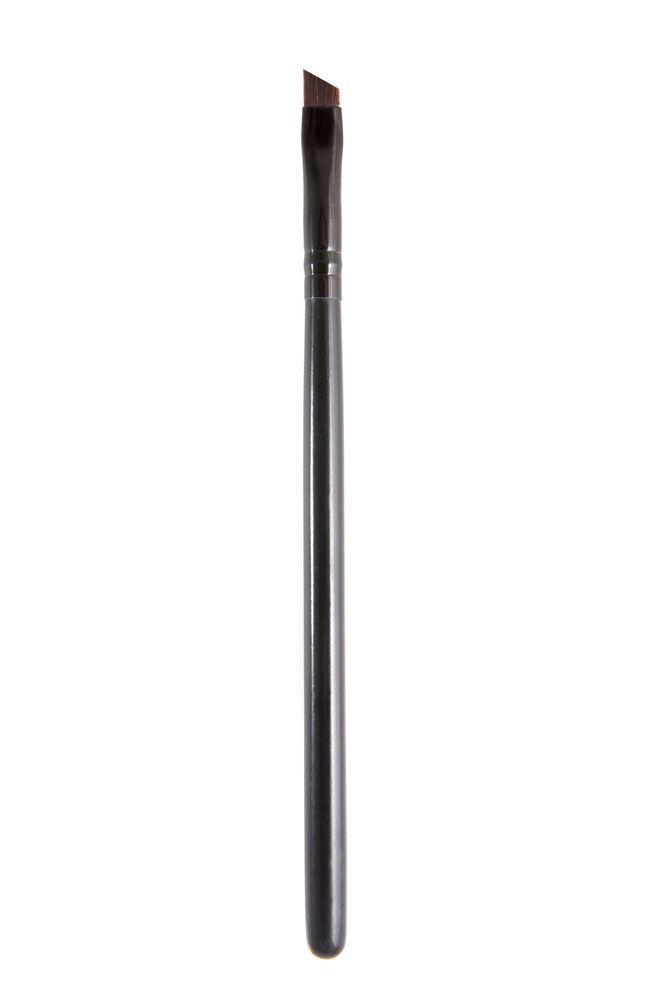 shutterstock
Thou shalt never ignore thy eyebrows. Avoiding a proper eyebrow groom is a cosmetology sin, that should never be committed! Fill and shape thy eyebrows with color to transform thy face into an even prettier one!
* Brush Anatomy: The straight and firm fibers of the eyebrow brush create precise blending and defined lines. This brush can be used with anything from powders to gels.
* Beauty Breakdown: After combing the eyebrow, begin your filling and shaping using the angled brow brush. To evenly distribute and blend the color, top your eyebrow off with a few swipes of the brow brush & lash comb.
8. Eyeshadow Brush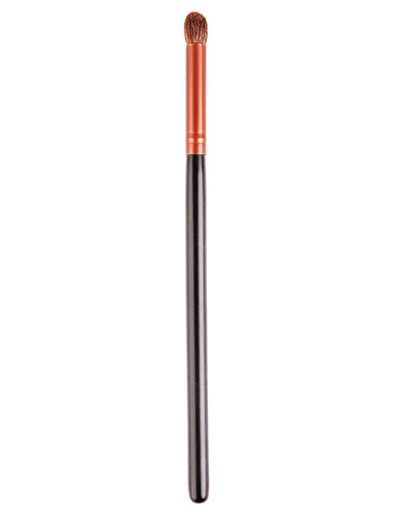 shutterstock
This brush is designed to distribute the right amount of eyeshadow for glorious saturation. The brush is shaped to your eyelid to perfectly apply and layer your favorite shadows.
* Brush Anatomy: This brush features stiff fibers and a flat, contoured shape to evenly distribute eyeshadow over the eye.
* Beauty Breakdown: For added color saturation, lay down an even layer of white eyeshadow to really make your eyeshadow "pop!"
9. Smudge Brush
shutterstock
For beautiful blend and a sultry smokey eye, this brush smudges your eyeshadow to create a natural finish.
* Brush Anatomy: This short, domed-shaped brush creatively "smudges" your makeup for intense color and blend.
* Beauty Breakdown: Use this brush to smudge your eyeliner for a "smokier" eye.
10. Eyeliner Brush

shutterstock
The eyeliner brush can be used to define eyes using wet or dry products.
* Brush Anatomy: The fine and firm bristles of this brush allow for easy precision, making mastering the cat eye that much easier.
* Beauty Breakdown: By dipping your brush in water, you can create a liquid liner from any powdered eyeshadow.
11. Stippling Brush
shutterstock
For high-definition, airbrushed skin, the stippling brush is a must-have for your beauty bag. The stippling brush simply dots your foundation onto your face, creating a smoother coverage.
* Brush Anatomy: The stippling brush features a flat head for even coverage, and dense bristles to easily absorb product.
* Beauty Breakdown: For a more natural, sheer finish, dampen your stippling brush before application.
Let a Paul Mitchell School make your dreams a reality! Learn how the art of makeup and hair at the school nearest you! Click to request more info!