Paul Mitchell Schools Bring Smiles to Seniors for Ann Bowler Day 2016
Six years ago, when Paul Mitchell Schools' Dean and Cofounder Winn Claybaugh lost his good friend Ann Bowler, he called upon the student-run Be Nice (Or Else!) Teams at the 100-plus cosmetology schools to hold "Ann Bowler Day" each December.
"Ann was 92 years old and an absolute joy to be around," Winn said. "She was funny, witty, incredibly intelligent, politically and community active, and my best friend. During our time together, every time I asked Ann if there was anything I could do for her, her only response was, 'Just be my friend.' I was very saddened by Ann's passing, and when my heart aches the only thing I know to do is to get busy and give back."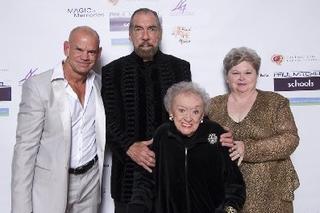 "Of all the people I could have taken as my date to the 2009 Paul Mitchell Schools FUNraising Gala, who did I want with me? My best friend, Ann Bowler," Winn said. "She loved having her photo taken that night with John Paul DeJoria, Donny Osmond, Leeza Gibbons, and Larry King, and she was captivated by all the magic created by our Paul Mitchell Schools. I'm sure she would be very proud to see the magic our schools now create in her honor."
For the 7th consecutive year, students and team members from Paul Mitchell Schools across America took time to visit nursing homes and senior centers, singing Christmas carols, bearing small gifts, and offering mini manicures and hairdos. They also made it a point to sincerely thank the nurses, doctors, and caregivers who look after these beautiful people. Most important, they gave the gift of their time, providing love and companionship to their new friends.
Here are just a few examples of the activities held by Paul Mitchell Schools for their 2016 Ann Bowler Day:
RELATED LINKS
See more photos in our Ann Bowler Day 2016 Facebook photo album