(July 31, 2015, DETROIT) – Nearly 100 volunteers, including 40 future beauty professionals from two Paul Mitchell Schools and volunteers from local salons, teamed up with the You First Project to transform midtown Detroit's Cass Activity Center into an outdoor spa for about 200 homeless adults and children, providing haircuts, manicures, food, and "Street Survival Kits" containing toiletries, sunscreen, socks, and—You First founder Dustin Berlin's personal favorite—a pack of mints. Medical treatment was also available, and Detroit-born singer-songwriter Sean Z entertained the crowd with some of his favorite songs. Within minutes after opening, 65 homeless people had been served at "PMTS4Change" and a line formed as word spread throughout the neighborhood. Soon, the area was filled with laughter and music, as kids danced and played after getting their new hairdos.
The event came together when Paul Mitchell The School Michigan and Paul Mitchell The School Great Lakes learned about You First founder Dustin Berlin through social media. Describing himself as a "traveling hairstylist," Dustin cuts hair everywhere he goes for people who can't afford it. "Each time, the act of loving others has created an amazing experience for the both of us," he says.
Given Paul Mitchell Schools' philanthropic history of "FUNraising"—the nationwide network has raised over $15.2 million for charity in the last 12 years—the school leaders flew Dustin in to see what they could do in Detroit.
The final partner came onboard when local salon owner Lynda Mac Neill, a former homeless woman who works at Cass Community Social Services, discovered the campaign on social media and reached out to the schools about including Cass. "To see the love and what everyone wants to do to help the homeless makes me feel very proud," Mac Neill said.
Paul Mitchell School Director Tina Black said, "We expected to do a few haircuts but with Lynda and Reverend Fowler's help, it turned into a movement, Paul Mitchell style! I predict this will be the first of many #PMTS4Change events as we continue to partner with You First Project to serve and add value to the less fortunate in our society."
While touring Cass a few weeks before the event, a team from the Paul Mitchell Schools did some haircuts and shampoos. Rev. Faith Fowler of Cass Community Social Services said it meant so much to the residents, especially the children. Weeks later, she said, the kids were still coming up to her and proudly showing off their haircuts. "It makes them feel like a person again, to be cared for, important, to look good," she said. "So much is tied to our appearance and our cleanliness, so to be scrubbed up and buffed up and sent out looking good again, it lifts your spirits. It gives you hope."
Winn Claybaugh, Dean and Cofounder of Paul Mitchell Schools, adds, "Hairdressers touch people, which creates healing on so many different levels. I'm always so proud to see our Paul Mitchell Schools use their skills in a way that truly makes a difference."
PMTS4Change marked You First Project's first Detroit event. Berlin hopes to make it an annual occurrence.
"If you see yourself as less valuable, you'll let people treat you as less valuable," said Dustin Berlin, who personally funded the survival kits with help from hairstylists and generous donors. "I believe everyone deserves to be loved and cared for."
ABOUT THE PARTICIPATING ORGANIZATIONS
At Paul Mitchell Schools, we believe that education is an adventure and the learning experience needs to be fun. Our learning leaders are trained to draw out the artist in every student and prepare them to succeed in both their chosen careers and their lives as globally aware and community-conscious contributors. Learn more at www.paulmitchell.ed
You First Project was founded in southern California by formerly homeless social activist and hairstylist Dustin Berlin to provide free haircuts to homeless people, assist with fundamental needs, and increase awareness about the struggles of homelessness. Follow @YouFirstProject on Instagram.
Cass Community Social Services is dedicated to making a profound difference in the lives of the diverse populations it serves by providing for basic needs, providing affordable housing, promoting self-reliance, and encouraging community involvement. To learn more, visit www.casscommunity.org.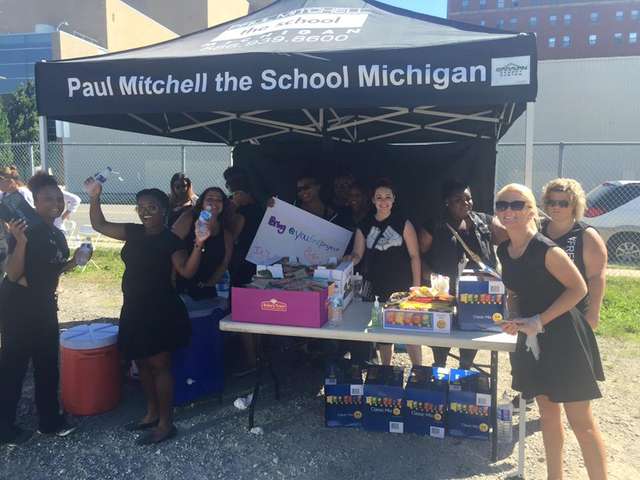 RELATED LINKS
Cass Community Social Services
Detroit Free Press: Detroit Homless Get Haircuts, Some TLC
WXYZ TV (ABC): Pamper Day for Homeless in Detroit
MyFoxDetroit.com: Stylists Volunteer to Give Haircuts to Homeless in Detroit
Detroit Hub: Paul Mitchell school, California hairstylist team up with Cass Community Social Services to give haircuts to the homeless
WJR Radio: Dustin Berlin and PMTS4Change on Mitch Albom Show
Tell Us Detroit: Free Haircuts (and more) For Homeless at PMTS4Change Detroit