TLC's SAY YES TO THE PROM kicked off the 2017 prom season alongside its first-ever premier retail partner Macy's to make prom dreams come true for nearly 1,000 underserved and academically high-achieving students across the country this year. In addition to gifting students with their perfect prom look and one-on-one style sessions with TLC's Monte Durham, the program used the milestone occasion to empower and motivate participants with mentorship, scholarships, and internship opportunities as they prepare for their next journey: college and careers.
SAY YES TO THE PROM made stops in Los Angeles, Miami, New York City, Chicago, and Silver Spring, Md. from January through April 2017 with a series of all-day runway and "shopping" events offering students makeovers, mentorship, and more. Future Professionals from 9 Paul Mitchell Schools were on hand at each stop, providing hair and makeup styling and tips.
A new, one-hour SAY YES TO THE PROM special chronicling this year's Los Angeles event will premiere on TLC on Saturday, April 1 at 8/7c, followed by an encore on OWN: Oprah Winfrey Network on Monday, April 3. An all-new line of SAY YES TO THE PROM dresses and accessories further extended the reach of the program, hitting Macy's stores nationwide in February.
Designed to go beyond the dress and tuxedo to prepare students for college and careers, this year's SAY YES TO THE PROM features educational partnerships with The Emma Bowen Foundation, The NYC Youth Employment Ladders for Leaders Program, and Miami Dade College as well as scholarship opportunities from Paul Mitchell Schools.
"Discovery Communications debuted TLC's SAY YES TO THE PROM six years ago as a local dress donation drive and event at our global headquarters in Silver Spring, Md.," said Adria Alpert Romm, Chief Human Resources and Global Diversity Officer, Discovery Communications, and creator of SAY YES TO THE PROM. "Since then, the program has transformed into a nationwide initiative with an impactful and unique mission – one that goes beyond removing the financial burden of prom to empower and motivate this generation of passionate, curious, future leaders and change makers with professional mentors and educational tools and resources to help them succeed as they look towards college and careers. This program is a continuation of Discovery's purpose-driven mission and a testament to the enormous impact that socially conscious companies across this country can make by working together."
SAY YES TO THE PROM offered young women in each location an opportunity to select from a dazzling array of more than 2,500 donated Macy's dresses and accessories as well as bags and shoes, while young men were outfitted with tuxedo rentals and accessories. Professional mentors turned style advisors for the day were also on hand to guide students in every city.
Runway events in New York and Los Angeles treated students to custom tailoring services and full hair and makeup, as well as one-on-one style sessions with Monte Durham and fashion icon Betsey Johnson, who also donated purses, shoes, and accessories from the Blue by Betsey Johnson collection. A red-carpet reveal show wrapped up each runway event, giving participants the chance to shine in the spotlight and show off their new prom-ready looks. In Miami, Chicago, and Silver Spring, a special shopping-only day with Monte extended the reach and impact of the program, welcoming larger groups of students for a day of mentorship, as well as dress, tuxedo, accessory, and shoe "shopping."
Participating Paul Mitchell Schools for the 2017 SAY YES TO THE PROM tour stops included:
January 25 in Los Angeles, CA – Paul Mitchell The School Sherman Oaks, Paul Mitchell The School Costa Mesa, Paul Mitchell The School Pasadena
February 28 in Miami, FL – Paul Mitchell The School Miami
March 21 in New York, NY – Jersey Shore Academy, Parisian Beauty Academy
April 4 in Chicago, IL – Paul Mitchell The School Chicago Paul MItchell The School Tinley Park, Paul MItchell The School Lombard
April 20 in Silver Spring, MD – The Temple Frederick, The Temple Annapolis, Paul Mitchell The School Jessup, Hair Expression Academies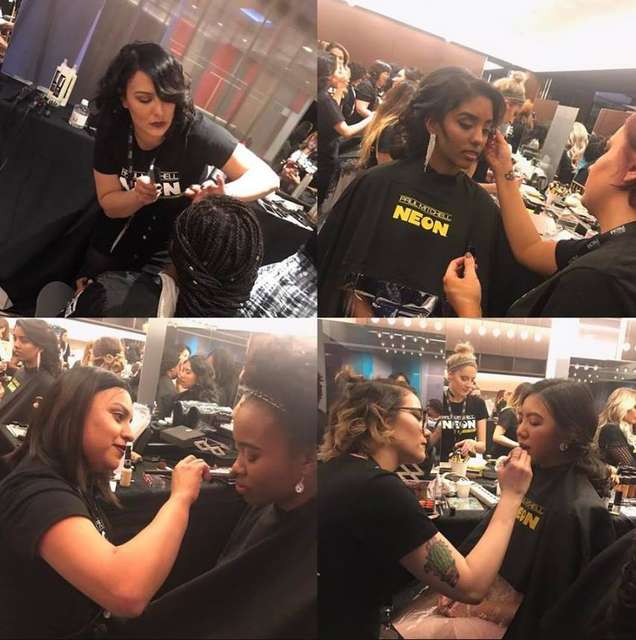 The program welcomed both new and returning national partners in 2017. In addition to Macy's and Betsey Johnson, SAY YES TO THE PROM was impactful than ever before as a result of contributions from premier partners including tuxedos from Men's Wearhouse, hair and makeup stylists from Paul Mitchell Schools, bags by Jessica McClintock, hands-free purses from Girly Go Garter, and onsite tailoring from George Worrell Style. AT&T returned as an exclusive industry partner, providing employee volunteers to serve as mentors and style guides in each of the five cities.
For more information on how you can get involved alongside the program's philanthropic partner Becca's Closet, as well as photos and videos, please visit www.tlc.com/sayyestotheprom and follow #SYTTP on Twitter and Instagram.
Photo Credits
(top) Ken Visser, Discovery Communications
(bottom) Paul Mitchell The School Jersey Shore
Related Links
#PM Insider Brooke Marston's behind-the-scenes look at SAY YES TO THE PROM: http://bit.ly/2nhVOeF
Say Yes to the Prom: www.tlc.com/tv-shows/say-yes-to-the-prom
Additional photos: http://bit.ly/2nClMwJ
About TLC
Offering remarkably relatable real-life stories without judgment, TLC shares everyday heart, humor, hope, and human connection with programming genres that include fascinating families, heartwarming transformations, and life s milestone moments. In 2016 to-date, TLC is the #10 ad-supported cable network in delivery among W25-54.
TLC is a global brand available in more than 91 million homes in the US and 325 million households in 220 countries and territories. Viewers can enjoy their favorite shows anytime, anywhere through TLCgo – the network s TVE offering featuring live and on demand access to complete seasons. A destination online, TLC.com offers in-depth fan sites and exclusive original video content. Fans can also interact with TLC on Facebook, Instagram, Twitter, Snapchat and Pinterest. TLC is part of Discovery Communications (NASDAQ: DISCA, DISCB, DISCK), the world's #1 pay-TV programmer reaching 3 billion cumulative viewers in 220 countries and territories.
About Discovery Communications
Discovery Communications (Nasdaq: DISCA, DISCB, DISCK) satisfies curiosity and engages superfans with a portfolio of premium nonfiction, sports and kids programming brands. Reaching 3 billion cumulative viewers across pay-TV and free-to-air platforms in more than 220 countries and territories, Discovery's portfolio includes the global brands Discovery Channel, TLC, Investigation Discovery, Animal Planet, Science and Turbo/Velocity, as well as OWN: Oprah Winfrey Network in the U.S., Discovery Kids in Latin America, and Eurosport, the leading provider of locally relevant, premium sports content across Europe. Discovery reaches audiences across screens through digital-first programming from Discovery VR, over-the-top offerings Eurosport Player and Dplay, as well as TV Everywhere products comprising the GO portfolio of TVE apps and Discovery K!ds Play. For more information, please visit www.discoverycommunications.com.