Future Professionals and team members from Paul Mitchell The School Costa Mesa, Paul Mitchell The School Sherman Oaks, and Paul Michell The School Pasadena joined Foot Locker, In-N-Out Burger, and several other sponsors to provide free athletic shoes, clothing, backpacks with school supplies, and fabulous haircuts and styles for 3,000 impoverished boys and girls at the Fred Jordan Mission's 2018 "Care for Kids" Back-to-School Giveaway in Los Angeles's Skid Row area.
Over the past 30 years, more than 100,000 children have returned to school equipped to learn with new shoes, complete school outfits, backpacks, school supplies, and burgers from the Mission's annual Back-to-School event.
Known as one of Southern California's most notable back-to-school giveaways, this year's event took place October 4, 2018, at the Fred Jordan Missions.
Children, students, and families look forward to this special day all year long. Volunteers from Foot Locker personally fit each child with new athletic shoes and then escort them to tables piled high with gifts of new clothing, backpacks, school supplies, and hygiene kits. In-N-Out brought their signature red and white food trucks to serve the children and their parents a delicious burger hot-off-the-grill, followed by a visit to the Paul Mitchell tent, where students and team members from the three Paul Mitchell Schools cut and styled each child's hair.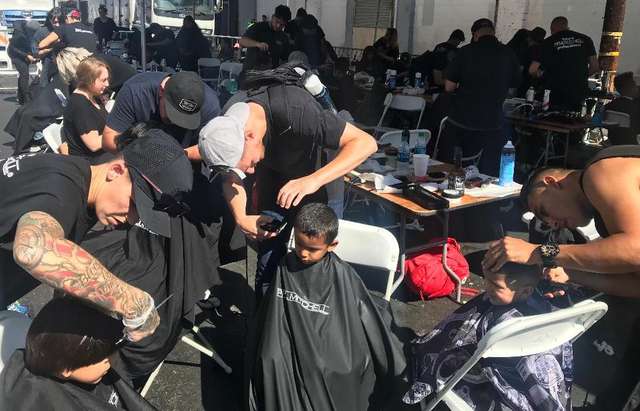 "According to the most recent study from the Public Policy Institute, California has the highest child poverty rate in the country and an average of 22.8 percent or 2,000,000 of California's children live in poverty," said Joe Jordan, President of Fred Jordan Missions. "That is why Fred Jordan Missions and Foot Locker 'Care for Kids' back-to-school giveaway started, so that thousands of children could have the tools necessary to be successful in the classroom."
Since 1944, Fred Jordan Missions (http://www.fjm.org) has fed homeless and impoverished men, women, and families with children in downtown L.A. The Mission has fed, clothed and housed some of the world's most impoverished people by building orphanages, schools, hospitals, and missions in Africa, Asia, and Latin America. The Mission is a nonprofit, faith-based, educational, and relief organization.