Paul Mitchell Schools Visit Seniors on Ann Bowler Day 2014
When Paul Mitchell Schools' Dean and Cofounder Winn Claybaugh lost his good friend Ann Bowler in 2010, he wanted to do something to honor her memory. "Ann was 92 years old and an absolute joy to be around," Winn said. "She was funny, witty, incredibly intelligent, politically and community active, and my best friend. I was very saddened by Ann's passing, and when my heart aches the only thing I know to do is to get busy and give back.
"During our time together, each and every time I asked Ann if there was anything I could do for her, her one and only response was, 'Just be my friend.'" Inspired by that simple request, Winn called upon the student-run Be Nice (Or Else!) teams at his 100-plus cosmetology schools to hold "Ann Bowler Day" that December, and it was a resounding success. They've repeated the event each year since, with students and staff members flocking to nursing homes and senior centers across America, singing Christmas carols, bearing small gifts, and offering mini manicures and hairdos. They also make it a point to sincerely thank the nurses, doctors, and caregivers who look after these beautiful people. Most important, they gave the gift of their time, providing love and companionship to their new friends.
"Of all the people I could have taken as my date to the 2009 Paul Mitchell Schools FUNraising dinner, who did I want there with me? My best friend, Ann Bowler," Winn said. "She loved having her photo taken that night with John Paul DeJoria, Donny Osmond, Leeza Gibbons, and Larry King, and she was captivated by all the magic created by our Paul Mitchell Schools. I'm sure she would be very proud to see the magic our schools now create in her honor."
Here are just a few examples of the activities held by Paul Mitchell Schools for their 2014 Ann Bowler Day:
Several schools, including Paul Mitchell The School Escanaba and Paul Mitchell The School Louisville, went Christmas caroling at local nursing homes.
Students and staff from Rudy & Kelly Academy delivered holiday cards to the residents of the Allzwell Assisted Living Center. They especially enjoyed meeting a four-star general who fought in WWII and celebrating his 91st birthday with him.
Paul Mitchell The School Michigan performed 29 manicures for the residents of the American House nursing home, where the director had "happy tears in her eyes because she was so thrilled for the residents."
Many schools, such as Paul Mitchell The School Pasadena, Paul Mitchell The School San Jose, and Paul Mitchell The School Modesto, provided hair, makeup, and nail services at assisted living centers and nursing homes. After working their "magic" at the Brighton Court assisted living center, students from Paul Mitchell The School Spokane invited family members to see the "big reveal." The students and residents loved it so much that they've already planned a return visit.
Paul Mitchell The School Ogden had a lot of fun making Christmas ornaments with the seniors of Legacy Village of Layton and hearing their Christmas stories. "We love celebrating Ann Bowler Day with amazing people!" they said. "It was a magical experience for the Future Professionals, Learning Leaders, and Director!"
Paul Mitchell The School Rhode Island brought Ann Bowler Day into their school Joan, a first-time client, was starting to lose her hair as a result of her treatment for stage 2 breast cancer. She decided to embrace the hair loss and came into the school for a short bob. "We ended up pampering her the whole day — haircut, conditioning treatment, hand massage, gel manicure, and makeup. A day of beauty on us is a memory that will last a lifetime."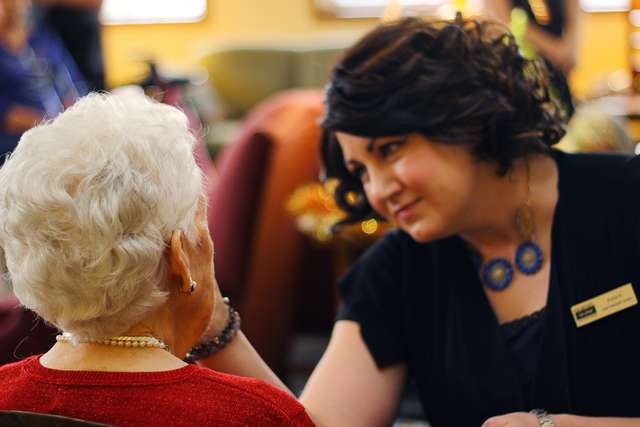 Related Links:
Paul Mitchell Schools Facebook gallery, Ann Bowler Day 2014:
http://tinyurl.com/annbowlerpix2014
Ann Bowler Day on Pinterest:
https://www.pinterest.com/search/pins/?q=ann%20bowler%20day