Going To School On Your Wedding Day?!
Most brides have been dreaming about their wedding day since they were little girls but the last place they would've imagined themselves to be on that day was school.
How you look on your special day is more important than just about anything else -all eyes are on you! You have to put so much trust in other people to get your big day look just right. When deciding who will be the stylist to take on the important task of making you look and feel perfect the whole day, would you consider a Beauty School? Shanita Perdomo did; and this is what she had to say about her experience: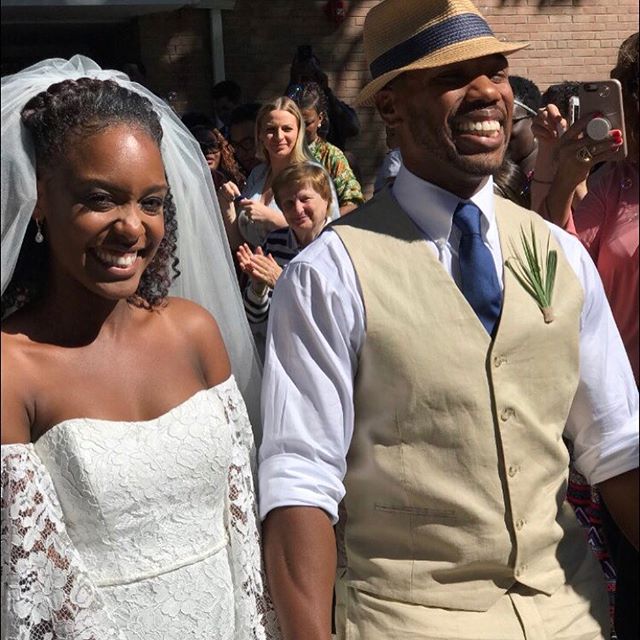 "I stumbled across Parisian Beauty Academy while shopping in the neighborhood. I was desperately searching for a team of dedicated and talented women to provide beauty services to my bridesmaids and I for my special day. Not only did I discover that Parisian was affordable, but it was highly recommended when I mentioned it to some friends of mine. The first time I went for a trial run was for my bridal shower. The student worked really hard at trying to achieve my desired look. With assistance from her supervisor, she captured it. My makeup was natural and flawless. The morning of my wedding, my bridesmaids and I entered the beauty academy with wide eyes. My best friend pointed-out the welcome signs that read, "Parisian Beauty Academy Welcomes Shanita and her Bridal Party". I cried. The supervisors and managers made me feel like a princess. There was drinks and snacks prepared for us and the students were ready to work. Each student used the allotted time given to them with such poise it was admirable. Each of my bridesmaids looked like an upgraded version of themselves. Everything was perfect down to the atmosphere, the music and the supervisor even gave my bridesmaids and I a special shout-out during the Saturday morning rush. To end this review, everything was excellent, professional and personalized. I am now a part of the Parisian Beauty Academy of Hackensack family. I have recommended its services to everyone I know. Thank you for all you do Paul Mitchell and Team!"
Parisian Beauty Academy, A Paul Mitchell Partner School in Hackensack, New Jersey was honored and proud to be part of the now Mrs. Perdomo's super-special day! The dedicated staff and faculty were as excited about the wedding as the bridal party themselves and were thrilled to work with the incredible group of 14 student Future Professionals who were equally excited to put their skills to the ultimate test. It was a beautiful day for all and all-around. Congratulations and wishes for a lifetime of happiness to the beautiful Mr. & Mrs. Perdomo!
Are you planning a special occasion that you want to look perfect for? Call us and find out how we can help make it happen!
Parisian Beauty Academy, A Paul Mitchell Partner School Guest Services can be reached at (201) 257-5956.