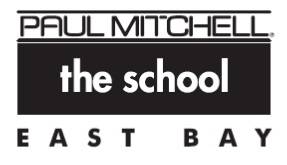 Where Are They Now: Kim Niebuhr
We caught up with our former Future Professional, Kim Niebuhr! 
What was your favorite part of attending Paul Mitchell the School East Bay?
The culture! For most of us, this was our college experience and they
really made it feel that way with spirit weeks, guest speakers, specialty
classes, etc. ?
Tell me about your favorite memory at Paul Mitchell the School East Bay:
The cut-a-thon we did to raise money for charity. We did back to back
haircuts all day. We were able to donate a lot of money through tips and
service costs. It was a great educational experience and it felt wonderful
to give back. ?
Tell me about the "Be Nice or Else!" culture at Paul Mitchell the School
East Bay:
Another thing I loved about PMTSEB was that they always treated everyone
equally. There was no favoritism. The student dynamic was very positive
when I went. Everyone was friends with everyone. I saw @winnclaybaugh speak
multiple times and he was truly inspiring.
What was your favorite thing that you learned while attending Paul Mitchell
the School East Bay?
I always enjoyed hair cutting so getting my cutting honors was my favorite
learning experience. Whenever I do a haircut I still utilize the knowledge
I learned. I worked at Sport Clips for a while and I felt that PMSTEB
really prepared me. ✂️
What's one piece of advice you'd give yourself if you could go back in time
to your first day of school?
Embrace every resource given to you. Dream big and go for it! ?
Did you meet any best friends at PMTS East Bay? If so, what are their
Instagram handles & tell me how you met!
Yes! @Zoe_Moter! Her daughter ended up being the flower girl in my wedding
in 2015. We met in core class. She is still a very dear friend.
Are you currently working at a salon, spa or barbershop? If yes, please
give us their instagram handle or link to website!
Yes, I am a lash artist in Walnut Creek! @iLashSuites – follow us!
At Paul Mitchell The School East Bay, we are dedicated to building
life-long careers, not just jobs. Our goal is to create a smooth transition
from school to the work force and we have a learning leader dedicated to
finding the best fit for you in the cosmetology industry.
Apply Now, Request a Tour or give us a call at 925-691-7687 with any question
you have. We look forward to hearing from you!