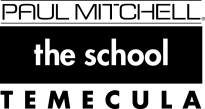 Cosmetology & Beauty School - Temecula, CA
Your Education Story
Starts Here

Find your niche. Follow your passion. You can make it happen—and we can help.
Paul Mitchell The School
Temecula

Paul Mitchell The School Temecula  is home to expert instructors and Learning Leaders who are dedicated to your success. They are licensed cosmetologists and experienced professionals, many of whom are well-known presenters who teach the latest techniques at continuing education seminars across the country. Our high teacher-to-student ratio ensures superior individual attention, and our state-of-the-art facility (as well as the Paul Mitchell name) allows us to attract exciting guest artists and premier names in the industry.
Located in the heart of southern California and just a short drive from San Diego and Los Angeles, Paul Mitchell The School Temecula is the perfect place to grow as a stylist and launch your dream career.
Visit Our Campus
Financial Aid
and Scholarships

We love supporting the dreams of our Future Professionals. That's why our Financial Aid Office at our Temecula campus is here to help educate you on the types of financial aid. There are several financial aid, alternative funding, and scholarship options available to those who qualify.
Explore Your Financial Options
MAKING A DIFFERENCE
IN TEMECULA

Our students (we call them Future Professionals) donate their time, talent and energy to various charities through cut-a-thons, fashion shows and countless other fundraising events and philanthropic activities. We make a difference—and have fun doing it!
See How We Give Back
Digital Support

Whether they're at home, in the classroom, or even hiking the trails at Diamond Valley Lake, our students always have access to their assignments, the latest school news, and career tips from beauty industry leaders at their fingertips.
Find Out How
Student Teams

At Paul Mitchell The School Temecula, education doesn't end at the classroom door. Our student-run Green Team teaches our school and local communities how to respect the Earth and find innovative ways to reduce, reuse and recycle.
Learn More
We are committed to the health and well-being of our entire school community. For health and safety resources, and current information, visit our dedicated COVID-19 page.
Learn more about our graduation, placement, and licensure rates, and much more.
If you need to make a payment, please click the button to be taken to our Payment Portal.