Paul Mitchell cosmetology schools have partnered with the nonprofit organization, EBeauty, to lovingly and generously refurbish donated wigs for cancer patients. EBeauty's Wig Exchange Program seeks to help every cancer patient gain access to a quality wig for free. This simple process has a powerful impact: women who have completed cancer treatments donate their used wigs, which are then refurbished and distributed, free of charge, to a woman undergoing treatment.
Five Paul Mitchell Schools are kicking off the partnership by learning the process and getting ready to take on this important role. Future beauty professionals from the Paul Mitchell Schools in Pasadena, Sherman Oaks, Houston, Webster TX, and Miami are eager to help EBeauty reach their goal of providing wigs for all women, regardless of their financial resources or location, to help sustain and restore their self-image and confidence during cancer treatments.
On May 15, EBeauty founder Carolyn Keller met with representatives from Paul Mitchell The School Miami and the Sylvester Comprehensive Cancer Center, University of Miami. "Everyone is so excited to implement this new program and numerous ideas were presented," Carolyn said. "It is EBeauty's intent to ship the first wigs to Miami by the end of May."
Carolyn and the EBeauty team then met with the Paul Mitchell Schools in Sherman Oaks and Pasadena, California, in early June, to be followed by the Texas schools soon after.
Alexandra Brown, Carolyn Keller, and Jill Mathison with Future Professionals and team members at Paul Mitchell The School Pasadena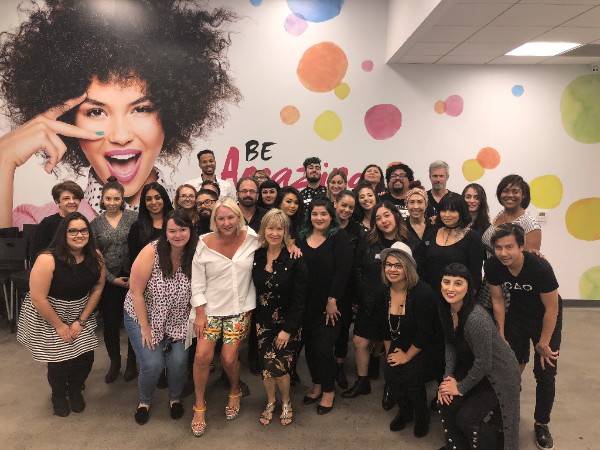 EBeauty's facility in Washington, DC, receives hundreds of wigs per week from all over the country, gifted by survivors, husbands, children, sisters, and friends who want to help support other women on her journeys. Future professionals will lovingly clean and style each wig. They'll also write notes of love and encouragement on the backs of 3x5 information and thank-you cards provided by EBeauty to include with each completed wig.
To date, EBeauty has received and distributed over 25,000 wigs.
Winn Claybaugh, dean and cofounder of Paul Mitchell Schools, says, "It's easy for our Paul Mitchell Schools to support this amazing organization and the people they serve. In fact, I believe it's quite easy for anybody to give back and make a difference. All we have to do is say yes."
(L­–R) Christina Pozo-Kaderman (Sylvester Comprehensive Cancer Center), Denise Barbosa (Paul Mitchell The School Miami), Carolyn Keller (EBeauty), and Tangela Hillery (Sylvester Comprehensive Cancer Center) join forces to plan the EBeauty program launch for Paul Mitchell The School Miami.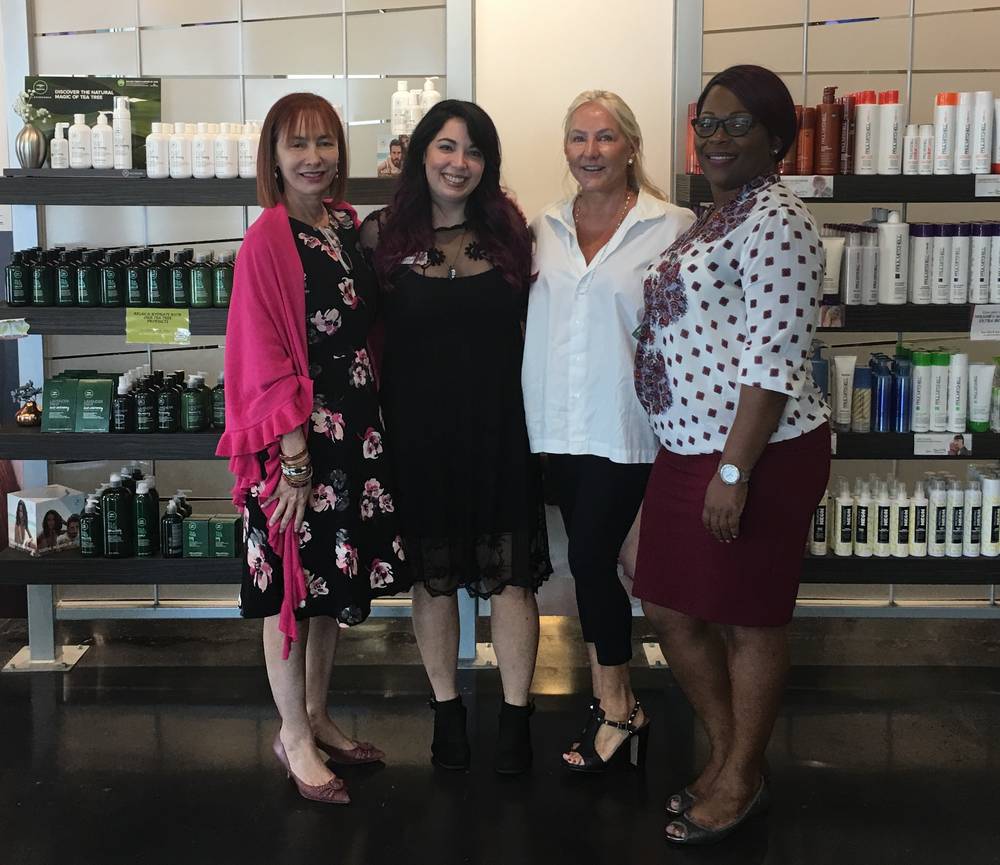 RELATED LINKS
Robin Roberts, a cancer survivor and Good Morning America, donates her wig to EBeauty:
https://www.youtube.com/watch?time_continue=5&v=WgRGzr9vVms
Paul Mitchell Schools Partner with EBeauty:
http://www.ebeauty.com/2018/07/06/paulmitchellschools
Learn more wig selection and wig care at http://lookgoodfeelbetter.org/programs/beauty-guide/new-hair-looks/
ABOUT EBEAUTY
EBeauty is a nonprofit organization that supports woman undergoing treatment for cancer through the EBeauty COMmunity, Wig Exchange Program, and other charitable initiatives. Learn more at www.ebeauty.com.
ABOUT PAUL MITCHELL SCHOOLS
At Paul Mitchell Schools, we believe that education is an adventure and the learning experience needs to be fun and well rounded. Our courses focus on important technical skills and business knowledge with an emphasis on social and community responsibility. Our learning leaders are trained to draw out the artist in our students and prepare them to enter their chosen careers as community-conscious salon and spa professionals. Through our annual "FUNraising" campaign, we've raised and donated over $19.7 million in support of many charitable causes. We've built homes with Habitat for Humanity, fed thousands of African orphans, and supported the victims of AIDS, breast cancer, homelessness, abuse, and hundreds of other causes.
Established over 38 years ago, the Paul Mitchell network is nearly 100,000 salons strong and in 81 countries worldwide; every professional hairdresser knows the Paul Mitchell name. Now, with the arrival of Paul Mitchell Schools, we've taken the world of cosmetology education by storm! Visit www.paulmitchell.edu to learn more.