As the winners of Paul Mitchell's 2018 Color Outside the Lines and Prom-ish contests, four talented Future Professionals joined thousands of industry pros at Paul Mitchell's Global Gathering 2018. Their prize included airfare, hotel accommodations, and tickets to the Las Vegas-based event, where they attended classes, met and mingled with their favorite mentors and educators, and were recognized during an onstage presentation.
Congratulations to Color Outside the Lines contest winners Eva Maliones from Paul Mitchell The School Chicago and Paige Anderson from Paul Mitchell The School Milwaukee, and to Prom-ish 2018 winners Eden Dean from Paul Mitchell The School Michigan and Devyn Bragg from Imagine (Rexburg), A Paul Mitchell Partner School.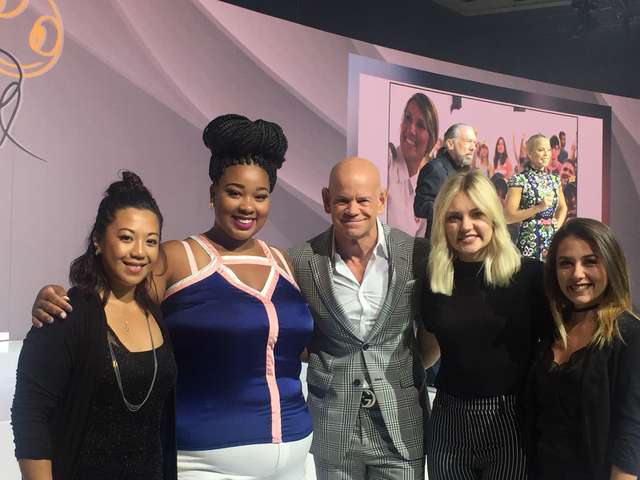 Paul Mitchell Schools Dean and Cofounder Winn Claybaugh congratulates contest winners at Gathering in Las Vegas.
(From left) Eva Maliones of Paul Mitchell The School Lombard (Color Outside the Lines contest), Eden Dean and Devyn Bragg (Prom-ish 2018 contest), and Paige Anderson of Paul Mitchell The School Milwaukee (Color Outside the Lines contest).

Asked what they liked best about Gathering, the Future Professionals pointed to practically everything.
Eden says, "I took some amazing classes: For the Love of Blonde, Art of Barbering, an awesome outside-the-box haircutting class, and an amazing updo class with Noogie Thai. As a student to get a chance to learn alongside salon owners and longtime professionals from some of the best artists in the industry was a dream. I will never forget the extremely affective and useful techniques I learned and now use on a regular basis.
"Getting a chance to hear John Paul DeJoria speak in person, and to meet him and take pictures with him actually brought me to tears," Eden adds. "It was such an honor to be in his presence. I also got to meet Robert Cromeans, Winn Claybaugh, Noogie Thai, Jeanne Braa Foster, Stephanie Kocielski, and many more influential people. Hearing Antony Whitaker speak about his journey really helped me put my career into perspective."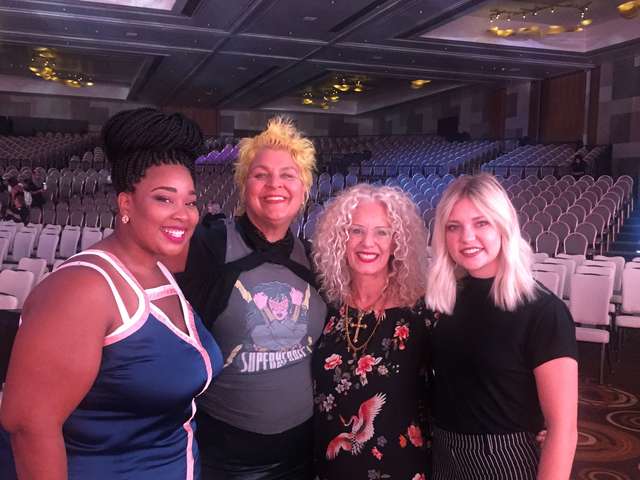 (L-R): Eden Dean, Stephanie Kocielski, Jeanne Braa Foster, Devyn Bragg
Paige said her favorite part was "getting to meet so many great people, students and professionals, and learning new techniques and skills from the best. Going backstage, seeing behind the scenes of the show, and meeting all the people that make Gathering possible was another thing that made the trip extra special for us."
Eva loved the MVRCK Launch: "It's authentic and created by our Paul Mitchell Barber Educators. The performance was dope and so much fun! I also loved being up close and personal with John Paul DeJoria and his team. Just being around their positive aura was inspiring and contagious. I definitely won't forget the education I've received. It was amazing! My favorite was Colin Caruso's class. The classrooms were huge but I had lots of opportunities to have one-on-ones with the artists. They were patient and passionate about what they do, which showed through their lessons. Another one of my favorite parts is the amount of free gifts I've gotten! Next time I'll bring a bigger suitcase!"
For Devyn, "The highlight of the whole trip was being able to meet and hang out with John Paul DeJoria and Angus Mitchell. They are true visionaries and have so much love for the people of this industry. It was so cool being able to see people so high in the industry and yet they are so kind. Another memorable experience was connecting with one of my mentors, Kelly Cardenas. He is such a caring and great example of a hard worker."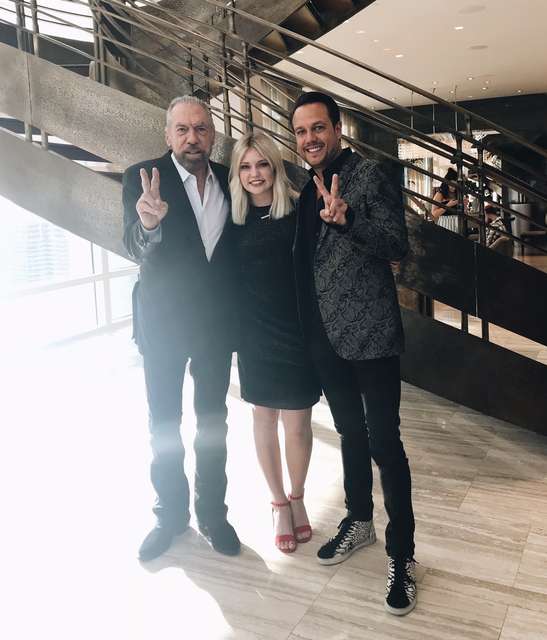 "Being able to attend The Gathering this year allowed me to branch out and learn more about the industry and prepare me for the salon. I loved all the classes: all the instructors were so kind and willing to help," Devyn says. "Thank you to everyone who made this possible. Forever grateful to everyone for the most memorable experience!"
Eden adds, "This was literally the best gift I could've ever received and I am sooooo thankful. I can carry this experience with me the rest of my life!"
RELATED LINKS
Prom-ish 18 Winners and Finalists Announced
Color Outside the Lines 2018: And the Winner Is ...
Devyn Bragg on Instagram @braggnbeauty
Eden Dean on Instagram @stylezfromthe_garden
Evangeline Maliones on Instagram @art.of.eva
Paige Anderson on Instagram @paige_marie316